Subsea Through Conduit Slab Gate Valve
Unmatched robustness in harsh services with high pressures and high temperatures.
Highlights
Robust design
High sealing capability
Suitable for high pressure, high temperature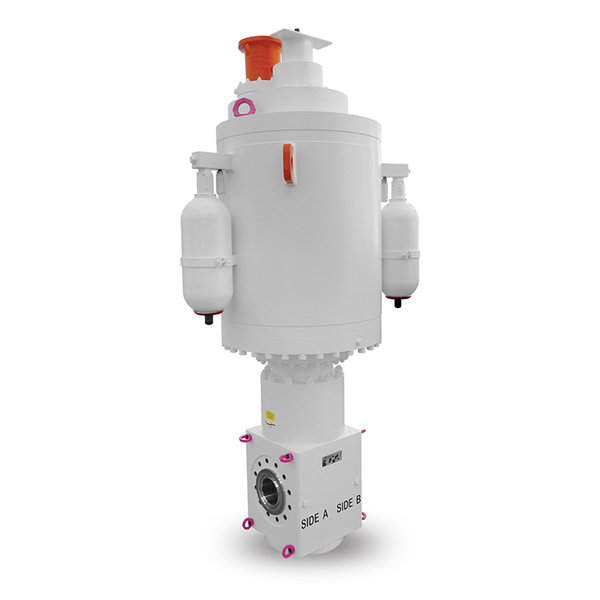 ATV manufactures a full range of Through Conduit Slab Gate Valves for Offshore & Subsea applications in the Oil & Gas exploration and production, suitable for water depths up to 3000 m (10000 ft).
Through Conduit Slab Gate valves provide superior bubble tight sealing capabilities in gas service and unmatched robustness in harsh services with high pressure, high temperatures and solid particles. The full bore through conduit design minimizes the turbolence of the flow and, when the valve is open, the pressure drop is equivalent to that produced by a pipe with the same diameter and length. Moreover, the valve is perfectly suitable for pigging operations.
ATV considers the through conduit slab gate valve the preferred choice for HIPPS applications, in consideration of the closing pressure assisted feature.
ATV supplies the through conduit slab gate valves in a wide range of materials and configurations to meet any specific need of the application and customer's requirements. ATV slab gate valves are manufactured with hardfaced sealing surfaces with Tungsten Carbide Coating (TCC). Optional features are available for seat and stem seals, hardfacings and end connections. Materials are sourced from qualified suppliers on the base of specifications that reflect the industry standards (API, ASTM, BS, DIN, NORSOK or others), but do also incorporate additional requisitions resulting from long experience.
The through conduit slab gate valves may be manually operated (by ROV or by diver, if feasible) or fitted with linear hydraulic actuators, fail as is or fail safe, with or without ROV override. ATV offers the highest level of performance and reliability being its actuators engineered to grant safe and extended operating life.
ATV designs, manufactures and tests its products in accordance with all the relevant Industry standards and codes (ANSI, API, ASME, BS, DNV, ISO, NACE, PED and others). The slab gate valves can be manufactured to conform up to product specification level PSL 4.
ATV stresses its willingness to produce engineered slab gate valves; therefore it welcomes requests for special size, class and design requirements.

Images
Subsea Through Conduit Slab Gate Valve - Specifications
SPECIFICATION
| | | |
| --- | --- | --- |
| MAIN DESIGN STANDARD | API 17D / ISO 13628-4 | API 6DSS / ISO 14723 |
| APPLICATIONS | Production manifold, flowline, Pipeline End Manifold (PLEM), Pipeline End Termination (PLET), Emergency Shut Down, Subsea Isolation, HIPPS, HPHT | Subsea Pipeline, Riser, Pipeline End Manifold (PLEM), Pipeline End Termination (PLET), HIPPS |
| APPLICABLE STANDARDS | API 17D, ISO 13628-4, ASME VIII, NACE MR0175 and other diffused Industry standards | API 6DSS, ISO 14723, ASME VIII, ASME B16.34, ASME B16.10, ASME B16.5, NACE MR0175 and other diffused Industry standards |
| RANGE | 2 1/16" ÷ 9", Class 3000 psi and 5000 psi, 1 13/16" ÷ 7 1/16" Class 10000 psi, 1 13/16" ÷ 5 1/8" Class 15000 psi, 1 13/16" ÷ 3 1/16" Class 20000 psi. Any other size upon request. | 2" ÷ 60" Class ANSI 600, 2" ÷ 48" Class ANSI 900, 2" ÷ 36" Class ANSI 1500, 2" ÷ 20" Class ANSI 2500. Larger sizes available on request. |
| WATER DEPTH | Up to 3000 m (10000 ft). Greater depth upon application. | Up to 3000 m (10000 ft). Greater depth upon application. |
MAIN FEATURES
| | | |
| --- | --- | --- |
| Forged body | | |
| Bolted bonnet | | |
| Full Bore | | |
| Bidirectional | | |
| Piggable | | |
| Standard acting (Fail Safe Open) | | |
| Double Block and Bleed (DBB) | | |
| Metal seated | | |
| Wear resisting hardfacing on sealing surfaces | | |
| Rising stem design | | |
| Backseat in open and/or close position | | |
| Qualification to PR2 | | |
| Local position indicator | | |
END CONNECTIONS
| | | |
| --- | --- | --- |
| Flanges (to API 17D / ISO 13628-4) | | |
| Flanges (to ASME B16.5 up to 24" and B16.47A for 26" and larger) | | |
| Compact flanges (to Norsok L005) | | |
| Studded flanges | | |
| Buttwelded ends | | |
| Hub ends for clamped connections (as per customer requirement) | | |
MATERIALS
| | | |
| --- | --- | --- |
| Carbon steel with partial or full CRA overlay on the wetted areas | | |
| Low alloy carbon steel with partial or full CRA overlay on the wetted areas | | |
| Stainless steel | | |
| Duplex and superduplex stainless steel | | |
| Nickel Alloy | | |
OPERATORS
| | | |
| --- | --- | --- |
| ROV operated gear | | |
| Linear hydraulic actuator w/ or w/o ROV Override | | |
| Electric multiturn | | |
OPTIONS
| | | |
| --- | --- | --- |
| Reverse acting (Fail Safe Close) | | |
| Seat skirts | | |
| Double Block and Bleed (DBB) | | |
| ROV bucket extension | | |
| Local position indicator extension | | |
| Remote position indicators (LVDTs and/or limit switches) | | |