Manufacturing Capabilites
ATV, being a very young company, has enjoyed the possibility to buy and install the last generation of machine tools, selected with the utmost attention to their quality between few highly recognized manufacturers. Only top class machine tools have entered the ATV workshop: these assets are essential to provide high quality machining while lasting many years in excellent shape because of the strict schedule for their preventive maintenance.

The quality of the machine tools, associated to the ability of our skilled shop foremen and machine tool operators, are granting that sophisticated machining operations are performed with the full dimensional compliance to the drawings and to the directions of the Engineering Team, reducing risk thus enhancing cost saving and lead time reduction. The full control of the critical manufacturing processes is the way to obtain the highest level of quality.

All machining disciplines and equipment are available, including large and medium size CNC vertical turret lathes, flexible machining systems made by a vertical CNC turret lathe associated to a CNC machining center and a shuttle that can move the mandrel and the piece from one to the other machine. The production capability is completed by CNC boring mills, CNC turning lathes, CNC machining centers, also with tilting table, CNC cutting machines and grindings.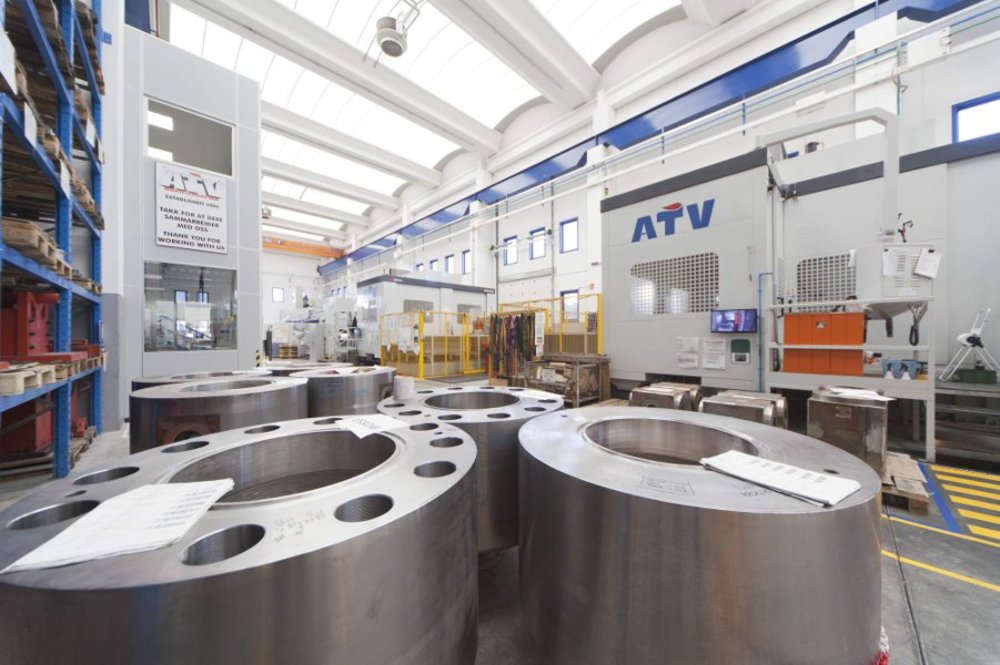 In addition to the very modern machining workshop, ATV has created an unparalleled welding department where one of the most critical activities of the valve manufacturing – the welding - is fully made in-house according to a number of qualified procedures by skilled qualified welders under the direction of registered International Welding Engineers.

The equipment is counting several CNC controlled robots to do the Inconel overlay on small to extra heavy pieces, several GTAW, GMAW, SAW machines and other special tools developed with ATV internal resources. A large size gas fired furnace qualified to International Standards is available for the PWHT.

Associated to the welding activities there are the NDE activities still done in line with the welding processes: the traditional MT, PT and UT inspections are implemented by an in-house developed Phased Array UT inspection (PAUT) equipment for dissimilar metal weld, representing an advanced technique for non-destructive testing. A Level III Engineer grants the supervision of these NDE activities performed by a number of Level 2 inspectors qualified to ISO 9712 and ASNT SNT-TC-1A.