Axial Flow Valve
A design capable of attaining absolute control over the full range of process conditions with a single valve.
Highlights
High Cv
Smooth Throttling action
Fully pressure-balanced piston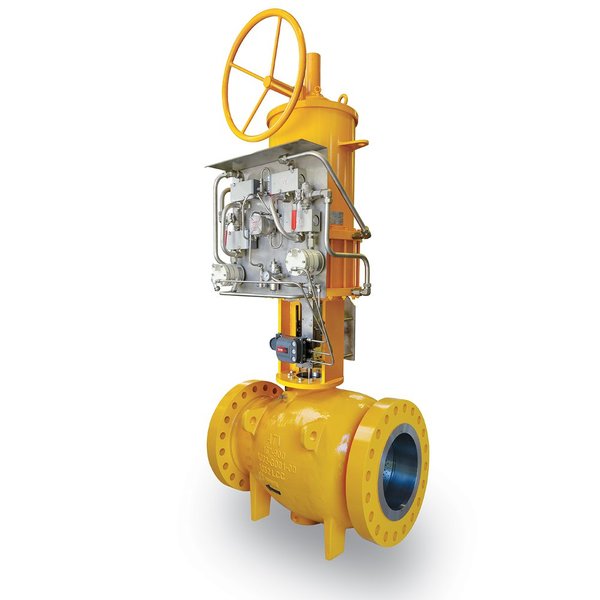 ATV offers a full range of Axial Flow valves (AXV) for production and processing applications. Furthermore, these valves are suitable for HIPPS applications.
Axial flow design is acknowledged by the leading operators in the gas, petrochemical and water industries as the only design capable of attaining absolute control over the full range of process conditions with a single valve class VI bubble tight leakage ANSI B16.34 (achievable in both flow directions).
AXV controls the fluid from the moment it enters the upstream flange until it is discharged downstream. A constant sectional area design allows the flow to be canalized into an annular flow pattern, uniformly guided by the shape of the inner and outer valve body: this design provides the fluid a symmetrical flow path with a smooth flow transition to the throat control zone, with low vibrations and low material erosion.
AXV offers smooth throttling action, fully pressure-balanced piston, high Cv values and high rangeability, moreover the possibility to tailor-made the trim type according to the process requirements permits to fit all the Customer requirements. A large variety of cages is available to usefully manage the most critical fluid conditions. The ATV Axial Flow Control Valve can handle any kind of clean fluids.

A simple, accurate, field proven sliding teeth mechanism assures real smooth movements and perfect control without backlash. The simplicity of the mechanism together with the full balanced piston plug design requires small size actuators. The AXV control valve can be fitted with actuators to suit customers' requirements: electric, pneumatic or hydraulically driven providing a compact control solution easy to install and operate with the minimum of maintenance.

Materials are sourced from qualified suppliers on the base of specifications that reflect the industry standards (API, ASTM, NORSOK, BS, DIN or others), but do also incorporate additional requisitions resulting from long experience.
ATV designs, manufactures and tests its products in accordancewith Industry standards and codes (ANSI, API, ASME, BS, NACE, PED and others).
Images
Axial Flow Valve - Specifications
SPECIFICATION
| | |
| --- | --- |
| APPLICATIONS | Severe control applications where high flow capacity is required (gas transmission compressor stations, anti-surge or anti-cavitation applications, etc.) |
| APPLICABLE STANDARDS | API, ISO 14313, ASME VIII, ASME B16.34, ASME B16.10, ASME B16.5, NACE MR0175 |
| RANGES | 6" ÷ 72" up to Class ANSI 600, 6" ÷ 48" Class ANSI 900, 6" ÷ 36" Class ANSI 1500, 6" ÷ 24" Class ANSI 2500 |
MAIN FEATURES
| | |
| --- | --- |
| One-Piece Cast Body Construction | |
| Compact Design | |
| Full Bore | |
| Welded-in or removable seat | |
| Metal or Soft seated | |
| Bi-Directional Tight Sealing | |
| Fire Safe design | |
| Suitable for shut-off service | |
END CONNECTIONS
| | |
| --- | --- |
| Flanges (to ASME B16.5 up to 24" and B16.47A for 26" and larger) | |
| Compact flanges (to Norsok L005) | |
| Buttwelded ends | |
| Hub ends for clamped connections (as per customer requirement) | |
MATERIALS
| | |
| --- | --- |
| Carbon Steel | |
| Low alloy carbon steel | |
| Stainless Steel | |
| Duplex or Superduplex stainless steel | |
| Nickel Alloy | |
OPERATORS
| | |
| --- | --- |
| Electric and Electro-Hydraulic Actuator | |
| Pneumatic Actuator | |
| Hydraulic Actuator | |
OPTIONS
| | |
| --- | --- |
| Extensive range of low noise and anti-cavitation trims | |