Subsea Swing Check Valve
A valve designed to prevent the backflow of fluids, often used as isolation valve
Highlights
Robust design
Automatic shutdown to protect pumps or compressors in case of reverse flow
Piggable on application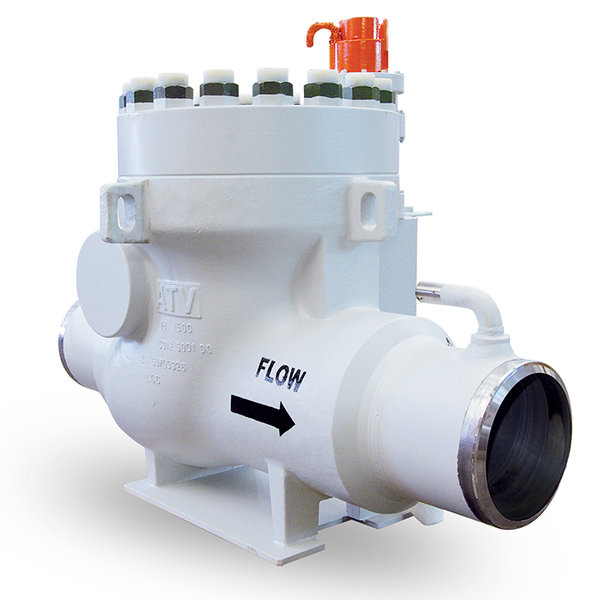 ATV manufactures a full range of Swing Check valves for the subsea flowlines, PLEMs, PLETs applications, suitable for pressure ratings up to Class 15000 psi and ANSI Class 2500, and water depths up to 10000 ft (3000 m).
The swing check valves can be regular port or full port, this latter being the option when the valve shall be piggable having an optimized design of body cavity and flapper.
ATV Swing Check valves can be supplied with clapper lifting device operated by a ROV tool (or by diver in shallow water). Lost motion devices can be supplied to reduce the wear on the shafted seals. Sensors for remote indication of clapper position are also available.
ATV supplies the subsea swing check valves in a wide range of materials and configurations to meet any specific need of the application and customer's requirements. ATV valves are manufactured with hardfaced sealing surfaces with cobalt-chromium alloys. Materials are sourced from qualified suppliers on the base of specifications that reflect the industry standards (API, ASTM, BS, DIN, NORSOK and others), but do also incorporate additional requisitions resulting from long experience.
ATV designs, manufactures and tests its products in accordance with all the relevant Industry standards and codes (ANSI, API, ASME, DNV, BS, ISO, NACE, PED and others).
ATV stresses its willingness to produce engineered valves; therefore, it welcomes requests for special size, class and design requirements.


Images
Subsea Swing Check Valve - Specifications
SPECIFICATION
| | | |
| --- | --- | --- |
| MAIN DESIGN STANDARD | API 17D / ISO 13628-4 | API 6DSS / ISO 14723 |
| APPLICATIONS | Upstream applications (PLEM, PLET, etc.), SSIV | Subsea pipelines and transmission systems |
| APPLICABLE STANDARDS | API 17D, ISO 13628, ASME VIII, ASME B16.34, ASME B16.10, ASME B16.5, NACE MR0175 and other diffused Industry standards | API 6DSS, ISO 14723, ASME VIII, ASME B16.34, ASME B16.10, ASME B16.5, NACE MR0175 and other diffused Industry standards |
| RANGE | 2 1/16" ÷ 11", Class 3000 psi and 5000 psi, 1 13/16" ÷ 7 1/16" Class 10000 psi, 1 13/16" ÷ 4 1/16" Class 15000 psi, 1 13/16" ÷ 3 1/16" Class 20000 psi. Any other size upon request. | 2" ÷ 60" Class ANSI 600, 2" ÷ 48" Class ANSI 900, 2" ÷ 36" Class ANSI 1500, 2" ÷ 20" Class ANSI 2500. Larger sizes available on request. |
| WATER DEPTH | Up to 3000 m (10000 ft). Greater depth upon application. | Up to 3000 m (10000 ft). Greater depth upon application. |
MAIN FEATURES
| | | |
| --- | --- | --- |
| Forged body | | |
| Cast body | | |
| Bolted bonnet | | |
| Full bore | | |
| Welded-in or removable seat | | |
| Metal seated | | |
| Wear resisting hardfacing on sealing surfaces | | |
| Qualification to PR2 | | |
| Local position indicator | | |
END CONNECTIONS
| | | |
| --- | --- | --- |
| Flanges (to API 17D / ISO 13628-4) | | |
| Flanges (to ASME B16.5 up to 24" and B16.47A for 26" and larger) | | |
| Compact flanges (to Norsok L005) | | |
| Buttwelded ends | | |
| Hub ends for clamped connections (as per customer requirement) | | |
MATERIALS
| | | |
| --- | --- | --- |
| Carbon steel with partial or full CRA overlay on the wetted areas | | |
| Low alloy carbon steel with partial or full CRA overlay on the wetted areas | | |
| Stainless steel | | |
| Duplex and superduplex stainless steel | | |
| Nickel Alloy | | |
OPERATORS
| | | |
| --- | --- | --- |
| ROV mechanical gear for pigging operations | | |
OPTIONS
| | | |
| --- | --- | --- |
| Reduced bore | | |
| Conduit clapper | | |
| Clapper position switches and transmitter | | |
| Hydraulic dampener | | |
| Lock open lever / clapper position indicator | | |