Dual Plate Check Valve
The most compact check valve design with rapid response and low pressure drop
Highlights
Minimum weight and compact design
Optional body design (wafer, flanged, welded ends)
Self retainer hinge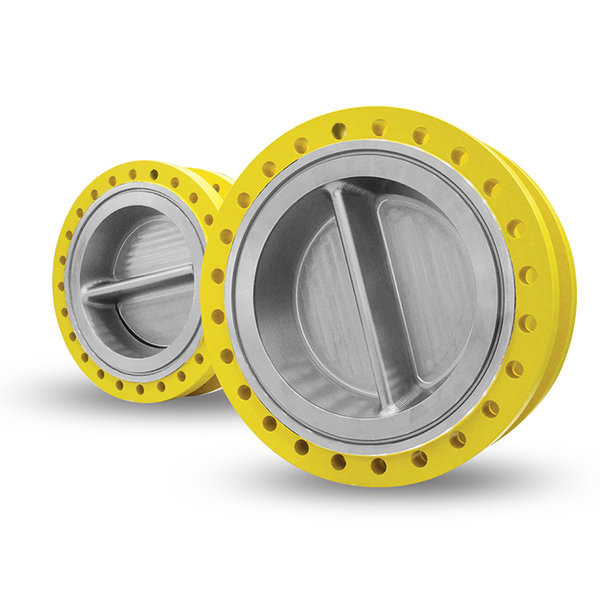 ATV manufactures a full range of wafer dual check for production, processing and transmission applications wherever non-return protection is required.
Dual plate check valve offers the advantage of a more compact design and a lower cost than the other check valves. Dual plate check valves are the preferrable choice in applications that require low pressure drop and rapid response against pressure surge and water hammer.
ATV offers its dual plate valves with flat twin plate design, that allows low pressure drop, fast response time and a superior metal-to-metal sealing capability. Moreover, a self-retained hinge, without external screwed plugs, helps to decrease the leak paths and allows the valve to be fugitive emission free. Different body styles (wafer, flanged, welded ends) are available to meet different pipelines connections.
A large choice of materials is available to meet application requirements: materials are sourced from qualified suppliers on the base of specifications that reflect the industry standards (API, ASTM, NORSOK, BS, DIN or others), but do also incorporate additional requisitions resulting from long experience.

ATV designs, manufactures and tests its products in accordance with all the relevant Industry standards and codes (ANSI, API, ASME, BS, ISO, NACE, PED and others).
ATV stresses its willingness to produce engineered valves; therefore, it welcomes requests for special size, class and design requirements.

Images
Dual Plate Check Valve - Specifications
SPECIFICATION
| | |
| --- | --- |
| MAIN DESIGN STANDARD | API 6D / ISO 14313 |
| APPLICATIONS | Pipelines, pumps, production plants |
| APPLICABLE STANDARDS | API 6D, ISO 14313, ASME VIII, ASME B16.34, ASME B16.10, ASME B16.5, NACE MR0175 and other relevant Industry standards |
| RANGES | 2" ÷ 36 |
MAIN FEATURES
| | |
| --- | --- |
| One-Piece body construction | |
| Self-Retained hinge | |
| Flat twin plate design | |
| Metal sealed | |
| Wear resisting hardfacing on sealing surfaces | |
| Fugitive emission free | |
END CONNECTIONS
| | |
| --- | --- |
| Flanges (to ASME B16.5 up to 24" and B16.47A for 26" and larger) | |
| Compact flanges (to Norsok L005) | |
| Buttwelded ends (to ANSI 16.25) | |
| Hub ends for clamped connections (as per customer requirement) | |
MATERIALS
| | |
| --- | --- |
| Carbon steel | |
| Low temperature carbon steel | |
| Martensitic and austenitic stainless steel | |
| Duplex and Superduplex stainless steel | |
| Nickel Alloy | |