Nozzle Check Valve
A full bore check valve with high Cv and high-speed response time
Highlights
Compact design
High Cv
Fast response time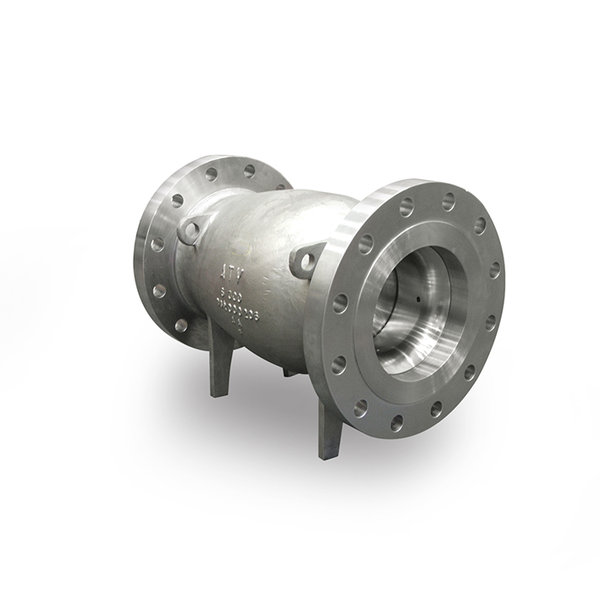 ATV provides a full range of Nozzle Check valves for production, processing and transmission applications, suitable for pressure up to 2500 psi.
Nozzle Check valves have typically a full bore design with care to minimize the pressure loss to negligible values while providing high-speed response time. Design is carried out using advanced parametric design tools and solid modelling programs. Valves design undergoes sophisticated structural and fluid dynamic analysis, carried out with FEA and CFA analysis: inner profiles are optimized in order to control the turbulence level and to increase device performances.

Materials are sourced from qualified suppliers on the base of specifications that reflect the industry standards (API, ASTM, NORSOK, BS, DIN or others), but do also incorporate additional requisitions resulting from long experience.
ATV designs, manufactures and tests its products in accordance with all the relevant Industry standards and codes (ANSI, API, ASME, BS, ISO, NACE, PED and others).
ATV stresses its willingness to produce engineered valves; therefore, it welcomes requests for special size, class and design requirements.

Images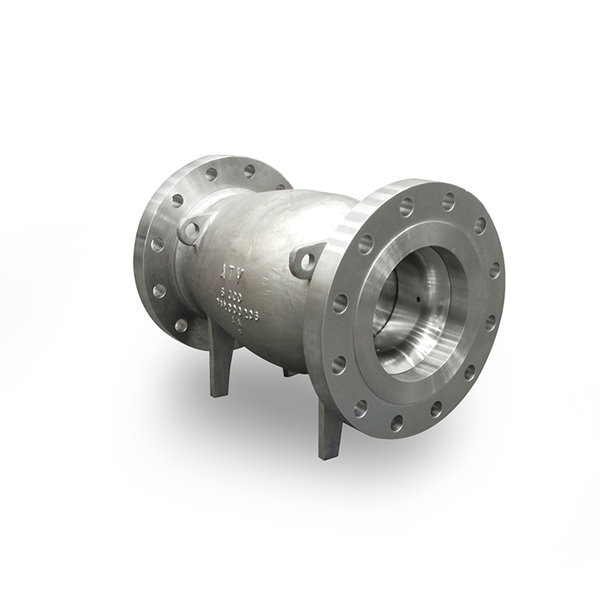 Nozzle Check Valve - Specifications
SPECIFICATION
| | |
| --- | --- |
| MAIN DESIGN STANDARD | API 6D / ISO 14313 |
| APPLICATIONS | Pipelines, rigs, platforms, skids, production plants |
| APPLICABLE STANDARDS | API 6D, ISO 14313, ASME VIII, ASME B16.34, ASME B16.10, ASME B16.5, NACE MR0175 and other diffused Industry standards |
| RANGES | 2" ÷ 60" Class ANSI 600, 2" ÷ 48" Class ANSI 900, 2" ÷ 36" Class ANSI 1500, 2" ÷ 20" Class ANSI 2500. Larger sizes available on request. |
MAIN FEATURES
| | |
| --- | --- |
| One-Piece cast body construction | |
| Full bore | |
| Welded-in or removable seat | |
| Metal seated | |
| Wear resisting hardfacing on sealing surfaces | |
END CONNECTIONS
| | |
| --- | --- |
| Flanges (to ASME B16.5 up to 24" and B16.47A for 26" and larger) | |
| Compact flanges (to Norsok L005) | |
| Buttwelded ends (to ANSI 16.25) | |
| Hub ends for clamped connections (as per customer requirement) | |
MATERIALS
| | |
| --- | --- |
| Carbon steel | |
| Low alloy carbon steel | |
| Stainless steel | |
| Duplex and Superduplex stainless steel | |
| Nickel Alloy | |
OPTIONS
| | |
| --- | --- |
| Soft seated for tight sealing | |