Fully Welded Ball Valve
The valve design that combines the maximum strength at the minimum weight, as well as a high resistance to pipeline internal and external loads.
Highlights
Compact and light design
High resistance to pressures and loads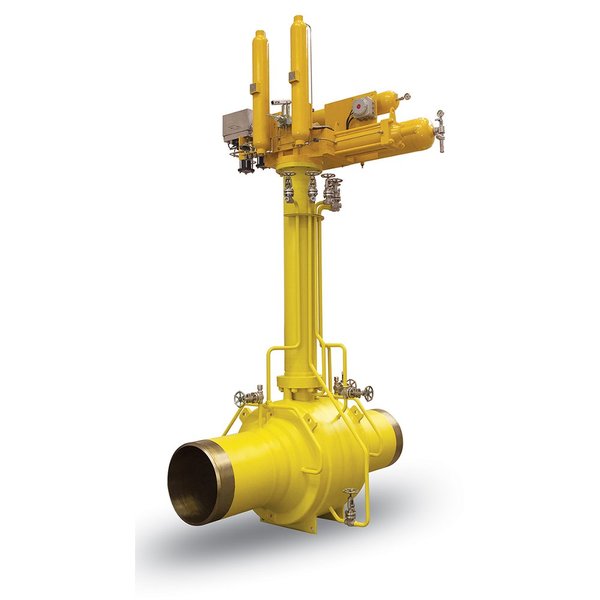 ATV supplies a full range of Fully Welded Ball Valves, trunnion mounted, for onshore and offshore topside applications in the Oil & Gas transmission.
Fully welded ball valve offers the advantage of a compact envelope, which allows for increased strength and significant reduction in weight. Furthermore, since the body is made by welding forged parts, there are fewer potential leak paths when compared to side-entry and top-entry ball valves.

ATV supplies fully welded ball valves in a wide range of materials and configurations to meet any specific need of the application and customer's requirements. Many optional features are available for seat designs, seat and stem seals, and end connections.
ATV fully welded ball valves are suitable for manual operation or for power assisted operation. ATV takes full responsibility in selecting the most suitable size for operating conditions.However, ATV welcomes customers' supplied items too: in such a case, ATV responsibility is limited to the assembling of the actuator on the valve and testing of valve and actuator system. On request, ATV may participate in the actuator selection together with the customer.

Materials are sourced from qualified suppliers on the base of specifications that reflect the industry standards (API, ASTM, NORSOK, BS, DIN or others), but do also incorporate additional requisitions resulting from long experience.
ATV Fully Welded Ball Valves comply with ISO 14313 requirements and with all the relevant Industry standards and codes (ANSI, API, ASME, BS, ISO, NACE, PED and others). The weldings of the body are perfomed and qualified according to ASME Section IX; non-destructive examinations (NDE) are performed in compliance with ASME VIII Division 1 and 2.
ATV stresses its willingness to produce engineered fully welded ball valves; therefore, it welcomes requests for special size, class and design requirements.
Images
Fully Welded Ball Valve - Specifications
SPECIFICATION
| | |
| --- | --- |
| MAIN DESIGN STANDARD | API 6D / ISO 14313 |
| APPLICATIONS | Transmission and distribution pipelines, HIPPS |
| APPLICABLE STANDARDS | API 6D, ISO 14313, ASME VIII, ASME B16.34, ASME B16.10, ASME B16.5, NACE MR0175 and other diffused Industry standards |
| RANGES | 2" ÷ 60" Class ANSI 600, 2" ÷ 48" Class ANSI 900, 2" ÷ 36" Class ANSI 1500, 2" ÷ 20" Class ANSI 2500. Larger sizes available on request. |
MAIN FEATURES
| | |
| --- | --- |
| Fully welded body with spherical or cylindrical vessel | |
| Forged body construction | |
| Trunnion mounted | |
| Full bore or reduced bore | |
| Single piston effect (SPE) seats | |
| Soft or Metal seated | |
| Double Block and Bleed (DBB) | |
| Anti-Blowout stem | |
| Fire-Safe design | |
END CONNECTIONS
| | |
| --- | --- |
| Flanges (to ASME B16.5 up to 24" and B16.47A for 26" and larger) | |
| Compact flanges (to Norsok L005) | |
| Buttwelded ends (to ANSI 16.25) | |
| Hub ends for clamped connections (as per customer requirement) | |
MATERIALS
| | |
| --- | --- |
| Carbon steel with partial or full CRA overlay on the wetted areas | |
| Low alloy carbon steel with partial or full CRA overlay on the wetted areas | |
| Duplex or Superduplex stainless steel | |
| Nickel Alloy | |
OPERATORS
| | |
| --- | --- |
| Handwheel or manual gear | |
| Electric Multi-Turn | |
| Pneumatic quarter turn actuator | |
| Hydraulic quarter turn actuator | |
OPTIONS
| | |
| --- | --- |
| Double piston effect (DPE) seats or mixed configuration (SPE/DPE) | |
| CRA Overlay, full or partial | |
| Wear resisting hardfacing on sealing surfaces | |
| Stem-Sealant injection | |
| Seat-Sealant injection | |
| Stem extension for underground installation | |