Rising Stem Ball Valve
A low maintenance valve, particularly appropriate for gas processing with high temperature and cycling service.
Highlights
Low maintenance valve due to the non-contact between ball and seat during the stroking action
Tight sealing in both direction
Extended Temperature range (from -46°C to 450°C)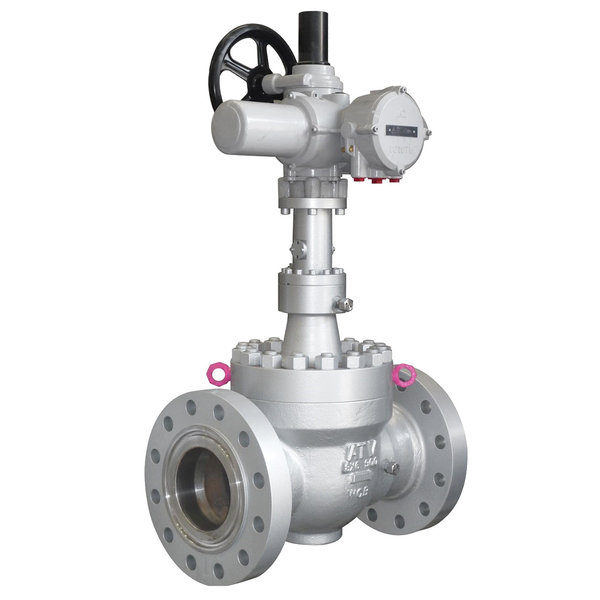 ATV offers a full range of Rising Stem Ball Valves mainly suitable for gas processing, such as for high temperature and cycling service, on molecular sieves and dehydrating units in gas treatment, isomerization units and other processing plants.
Rising Stem Ball Valves are the most suitable for these severe service applications requiring the highest reliability because the sealing surfaces do not contact during stroking with the benefit of long life without maintenance. Peculiarity of ATV Rising Stem Ball Valve is that when the ball is in close position, the tight sealing between the ball and the single fixed seat is granted in both directions. Rising Stem Ball Valves can be operated with manual gear or with electric, pneumatic or hydraulic actuators.
Materials are sourced from qualified suppliers on the base of specifications that reflect the industry standards (API, ASTM, NORSOK, BS, DIN or others), but do also incorporate additional requisitions resulting from long experience.

ATV designs, manufactures and tests its products in accordance with all the relevant Industry standards and codes (ANSI, API, ASME, BS, ISO, NACE, PED and others). ATV rising stem ball valves are pressure tested to the most stringent requirements.
ATV stresses its willingness to produce engineered valves; therefore, it welcomes requests for special size, class and design requirements.
Images
Rising Stem Ball Valve - Specifications
SPECIFICATION
| | |
| --- | --- |
| MAIN DESIGN STANDARD | API 6D / ISO 14313 |
| APPLICATIONS | Gas processing, isomerization units and other processing plants |
| APPLICABLE STANDARDS | API 6D, ISO 14313, ASME VIII, ASME B16.34, ASME B16.10, ASME B16.5, NACE MR0175 |
| RANGES | 2" ÷ 24" Class ANSI 600, 2" ÷ 20" Class ANSI 900, 2" ÷ 12" Class ANSI 1500 and 2500. Larger sizes available on request. |
MAIN FEATURES
| | |
| --- | --- |
| Cast Body Construction | |
| Top Entry with Bolted Bonnet | |
| Full Bore or Reduced Bore | |
| Metal Seated | |
| Wear Resisting Hardfacing on Sealing Surfaces | |
| Bi-Directional Tight Sealing | |
| Fire-Safe Design | |
END CONNECTIONS
| | |
| --- | --- |
| Flanges (to ASME B16.5 up to 24" and B16.47A for 26" and larger) | |
| Compact flanges (to Norsok L005) | |
| Buttwelded ends | |
| Hub ends for clamped connections (as per customer requirement) | |
MATERIALS
| | |
| --- | --- |
| Carbon Steel | |
| Low alloy carbon steel | |
| Stainless Steel | |
| Duplex or Superduplex stainless steel | |
| Nickel Alloy | |
OPERATORS
| | |
| --- | --- |
| Handwheel or manual gear | |
| Electric Multi-Turn | |
| Pneumatic Actuator | |
| Hydraulic Actuator | |
OPTIONS
| | |
| --- | --- |
| Forged body construction | |
| High-Temperature Service | |
| Hydraulic snubber for pneumatic actuator | |
| Injectable packing for in-line maintenance service | |
| Handwheel Extension | |